Come Explore the Possibilities with Sunshade Awnings at Our Store in Ajax
We launched Sunshade Awnings at the beginning of 2011 to specialize in the growing demand for exterior shading products. Specifically, retractable and motorized awnings, screen shades, rolling shutters and other products designed for the Eco-conscious consumer, striving for increased sustainability.
We have decided to take the lead in the industry and focus more of our efforts to educate YOU the consumer on products designed not only to enhance your lifestyle but also to increase awareness on the benefits these products have on the environment and your wallet.
Retractable Awnings
Maximize your outdoor living enjoyment by installing a retractable awning for your home or business. All of our awnings provide added beauty to your home or business, offer maximum protection from the sun and greatly reduce your energy cost.
Our awnings are available in manual crank operation or by a simple remote control. Motorized awnings are very popular for both home and business. A motorized upgrade allows you to quickly extend or retract your awning with minimal effort. See for yourself at our showrooms.
SunStopper Awnings
20% Off
SunStopper Awnings 20% OFF.
Contact Us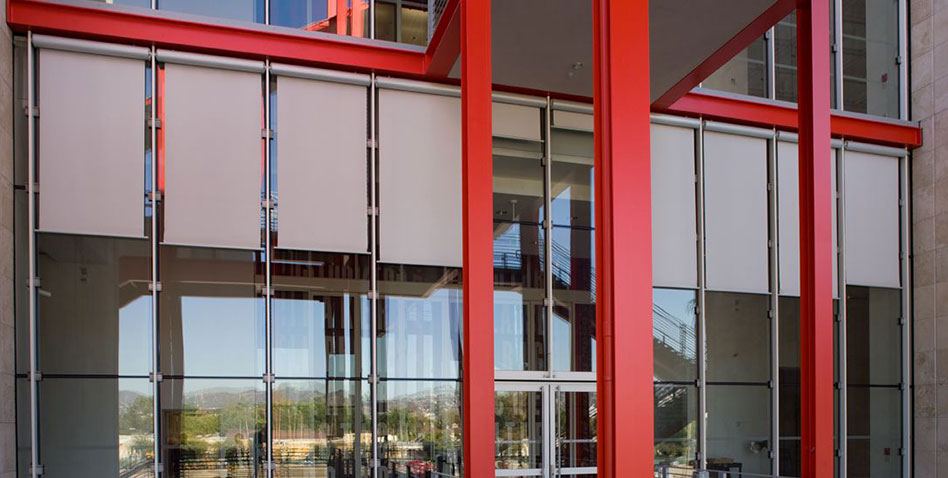 Exterior Shade
Excellent options for pergolas, patios, decks, outside any building or any special outdoor project you need to complete. The exterior blind is available from a simple cord operation, to awning grade manual crank ups and optional motorized upgrades. These shades will blend in gracefully with any exterior home or business. Outdoor shades effectively filter the suns light, creating a cool and relaxing environment. Solar heat gain is greatly reduced by limiting the amount of direct and indirect sunlight that enters a window or door.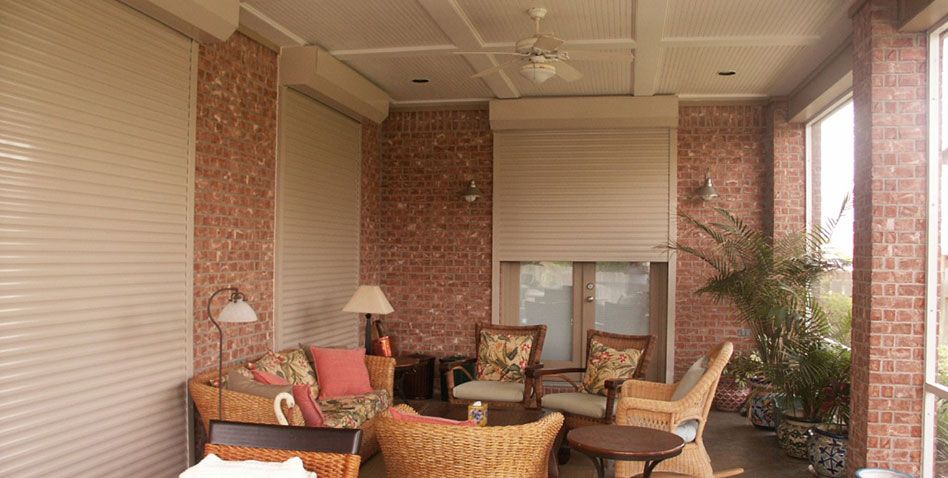 Pentagon Security Shutters
For the added protection and ease of operation, security shutters have found use in a variety of uses. The strong insulated aluminum slats blends well with any décor, and as an added bonus helps keeps out solar heat and winter cold. These shutters can be manual or motorized with a variety of locking features. They are the perfect product for gazebos, decks, doors, windows, kiosks, arenas, patio doors, etc.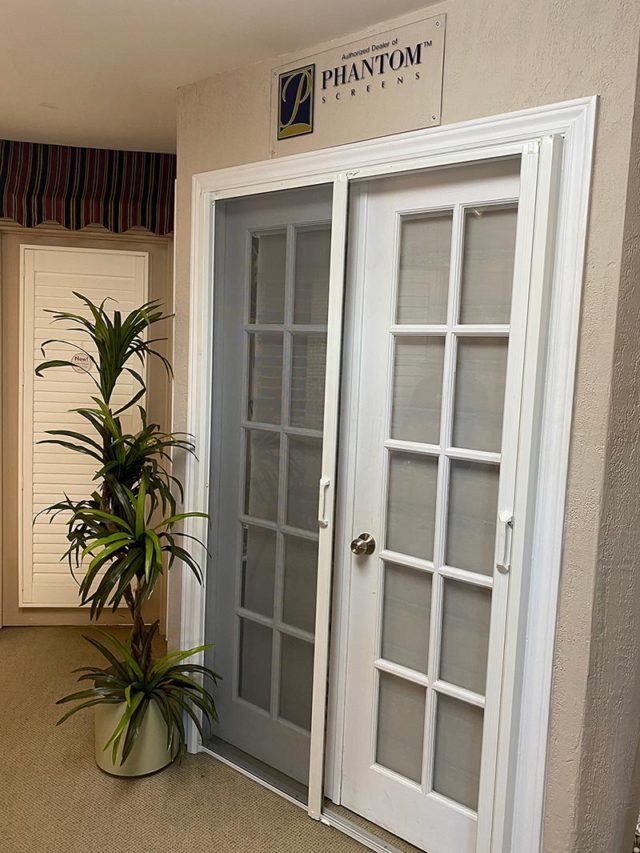 Phantom® Screens
"Retractable Screens for doors, windows, and large openings"
Sunshade is an Authorized Phantom Screen dealer. Drop by our showroom to try out our latest display.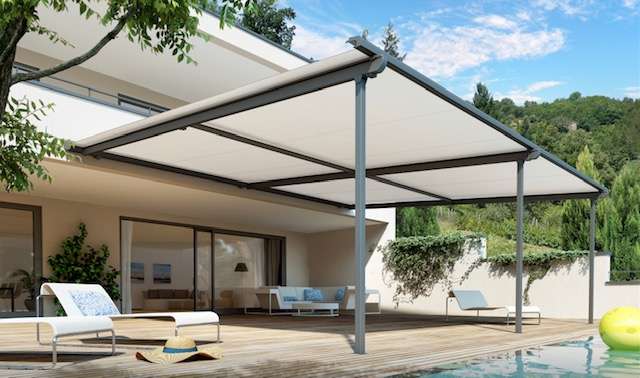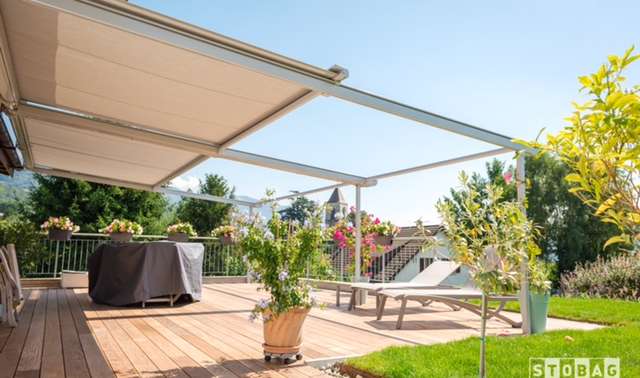 The Pergolino
The P3000 Pergolino Awning is a weather protection system which is fixed to the facade with an adjustable wall mounting. This robust, and easy-to-install shading system is fitted with two adjustable guide rails and support posts.
Displays elegance with the end profile retracted, the box is tightly closed and the cover protected from the weather. Exterior Roller Blinds or Drop Shades can be mounted to the frame of the Pergolino for added sun protection or privacy. Pergolinos come standard with motorization.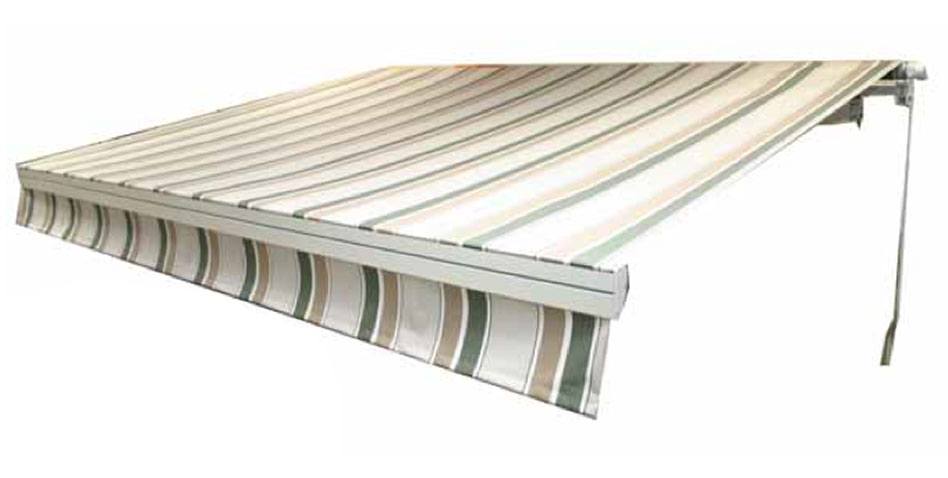 Fabric Replacement
Refresh your existing retractable patio awning by updating the fabric. An easy Do It Yourself project for you to tackle with some family and friends. Alternatively have us install it for you if you: our rate is $2.50 / Sq Foot ( or a min $350.00 whichever is greater).
How to measure:
Fully extend your awning.
Stand at the front bar of the awning
Measure the width of the fabric exactly
Measure the projection of the awning to as far as the tape measure goes( we will add on 1′ for the roller tube)
For example, measurements of 15′ x 10′ will come 15′ x 11′ to allow the extra fabric to wrap around the roller tube.
Don't measure the valance it will be sent to you standard straight 8" with an option for scalloped if requested.
Awning Replacement Fabric Price Sheet
PROJECTION
WIDTH
88"
133"
178"
223"
268"
7' 4"
11' 1"
14' 10"
18' 7"
22' 4"
6'
$487
$699
$916
$1148
$1379
7'
$525
$759
$994
$1247
$1496
8'
$564
$799
$1069
$1341
$1612
9'
$599
$869
$1149
$1438
$1728
10'
$641
$934
$1224
$1535
$1844
11'
$679
$992
$1299
$1629
$1960
12'
$719
$1049
$1379
$1728
$2076
VALANCE
(Straight or Scalloped 8 ")
38
58
71
81
95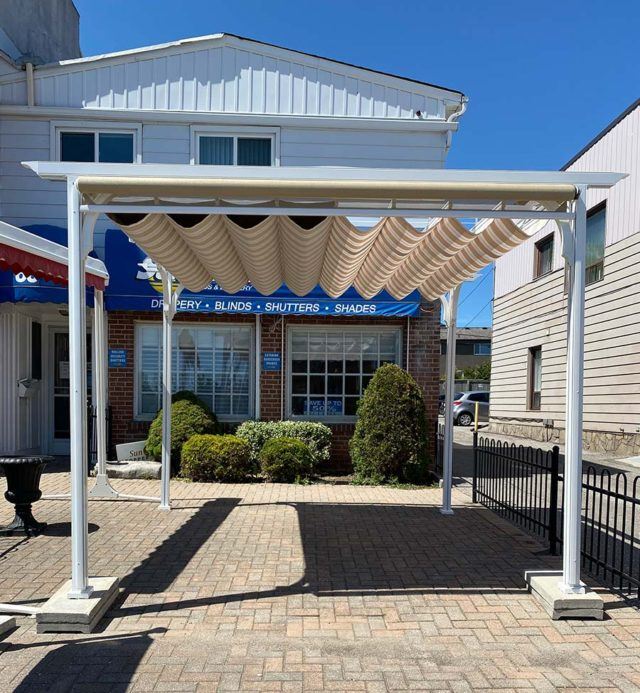 Patio Canopies
Patio canopies are versatile shading systems that retract manually or with motorized operation and feature a host of fabric choices that match your home decor to create a comfortable outdoor space. These unique structures can be installed free standing or mounted to a home, pool house or other outdoor structure.
Ideal to cover verandas or exposed patios, retractable canopies can provide shade and provide the atmosphere you need for entertaining without building an entire new outdoor structure.
This is an excellent option for docks, restaurants, and any open patio space that an umbrella is simply either not sufficient in size or just not practical.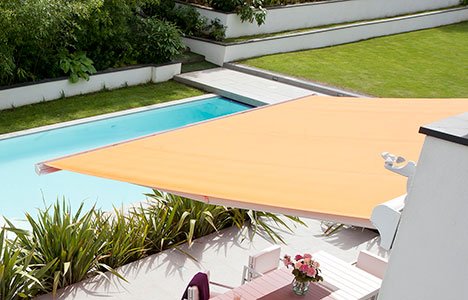 Motorization
All of our Retractable Awnings, Exterior Shades, Security Shutters, and most Patio Canopies can be motorized.
Put simply there are two types of automation:
Type 1: Wireless Control
For the vast majority of our customers we use simple wireless technology. Any outdoor outlet will do, no electrician is required! One wireless remote control or battery operated wireless wall switch is all you need to operate your shade. Wireless technology is becoming very cost effective and can be fitted with sun and wind sensors to extend and retract the awning automatically.
Type 2: Hardwired Control
For the odd situation where the shading system requires hardwire hookup, Sunshade can provide everything required to operate the shade. However a qualified electrician will have to be present to hookup the power.
Sunshade Awnings recommends adding a motor whenever possible, especially when operating medium to large awnings. People sometimes have difficulty operating an awning due to size, weight and tension of the awning arms. Adding a motor will take the difficulty away. All of our motors come with an industry standard 5 year warranty. They are simple to use, convenient and affordable upgrades to any shading system.
Manual Override Motor Systems
Our Recommended package! This is a premium motor package that includes the motor complete with manual override. Sun Stopper AwningsTM are designed to offer sun protection which will enhance the enjoyment of outdoor spaces. They are not intended to be used as storm protection devices.
Radio Remote Control Motor Systems
Somfy Altus RTS series is the basic radio remote control motor. A manual override version RTS CMO is also available. These motors can be activated with a remote control hand unit or with a radio sender wall switch that mounts inside the house like a regular switch but uses radio waves to activate the awnings eliminating the need for additional wiring. Controllers are available to operate more than 1 awning from a single controller.
Sun/Wind Control Options
This system incorporates both a sun sensor which will open your awning when the sun shines to protect your interior furnishings and block the heat from the sun, and a wind sensor that will automatically retract your awning in the event of high winds.
Fit your style & transform your home with Sunshade Blinds & Drapery